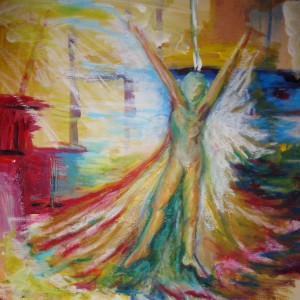 The therapeutic elements of art creation are many. Art is good for the mind and the soul on many levels. Art comes in many varieties, but its objective is always the same: to create something that will provide entertainment, enlightenment and information to an audience. This experience may be intellectual or sensory. The therapeutic element of creating art comes from the creative process and through the presentation of the finished product. Creativity is innate in humans, and regardless of your personality, chances are you are creatively talented in one way or another.
The visual arts are a common method of expressing one's artistic abilities. This may include drawing, painting, collaging or any number of digital art designs. This method is popular because the materials are easy to find, but also because the concept is simple while the art itself can be as complex as a person desires.
Performance art is another widespread artistic release. Performance art may include singing, dancing, playing a musical instrument, acting in a play or musical or a number of other performative modes of expression. Live performance art is for those who are brave enough to express their craft with people watching.
The literary arts are for those who are gifted with words. This usually involves some form of creative writing, but can arguably extend to essay, article and other forms of writing as well. Putting work into creating a piece of writing that you are proud of can be enormously rewarding and can help you gain self-awareness.
The culinary arts are a favorite among foodies. Putting thought, skill and artistic flare into cooking can result in true masterpieces, or simply a delicious, savory meal. Many people swear by cooking as their most valuable stress release during the week.
Of course, these are not the only art forms available to people in their spare time. Art is very diverse and an artistic process can be found in many areas of life.